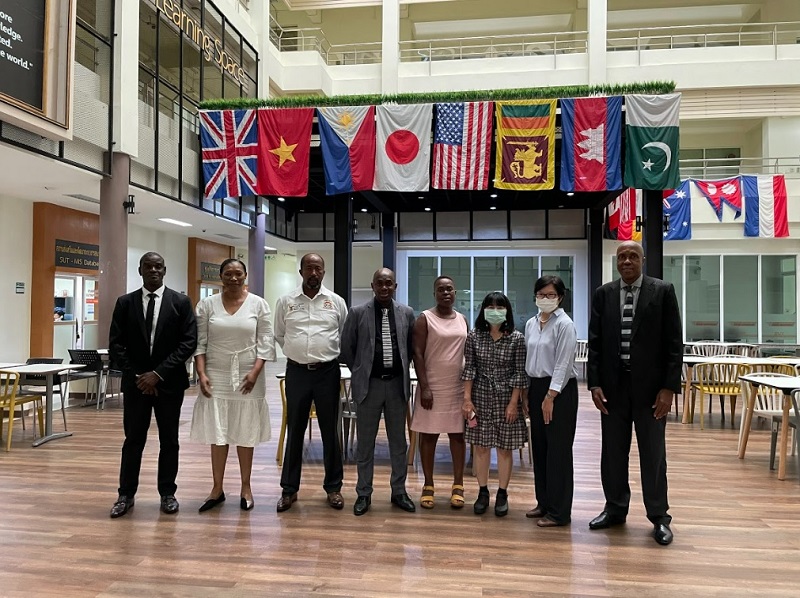 On September 19, 2022, SUT welcomed an executive management visit from the Republic South Africa colleges.  The delegation included Ms. Thangithini Juliet Aryetey, Mr. Levy Baloyi, Mr. Lekau Mamabolo, Mr. Elias Mbuyane, Ms. Mugwena MJ and Mr. Tshepo Ngcobo from five different Technical and Vocational Educational and Training (TVET) colleges including Elangeni TVET College, Vhembe TVET College, Ehlanzeni TVET College, Mopani TVET College, and Capricorn TVET College.
Repubilc-South-Africa-Visit_SUT

Welcomed by Assistant Professor Dr. Wipawee Usaha, Director, Center for International Affairs and Associate Professfor Dr. Surinthorn Boonananthanasarn, Head of Animal Technology and Innovation, Institute of Agricultural Technology, the meeting was held with purpose of seeking collaboration between South Africa colleges and SUT with an aim of enhancing South African students skills and knowledge that can be offered by SUT academic cooperation and possible staff and student mobiligy and upskills programs, both long-term and short-term in the forthcomingt future.