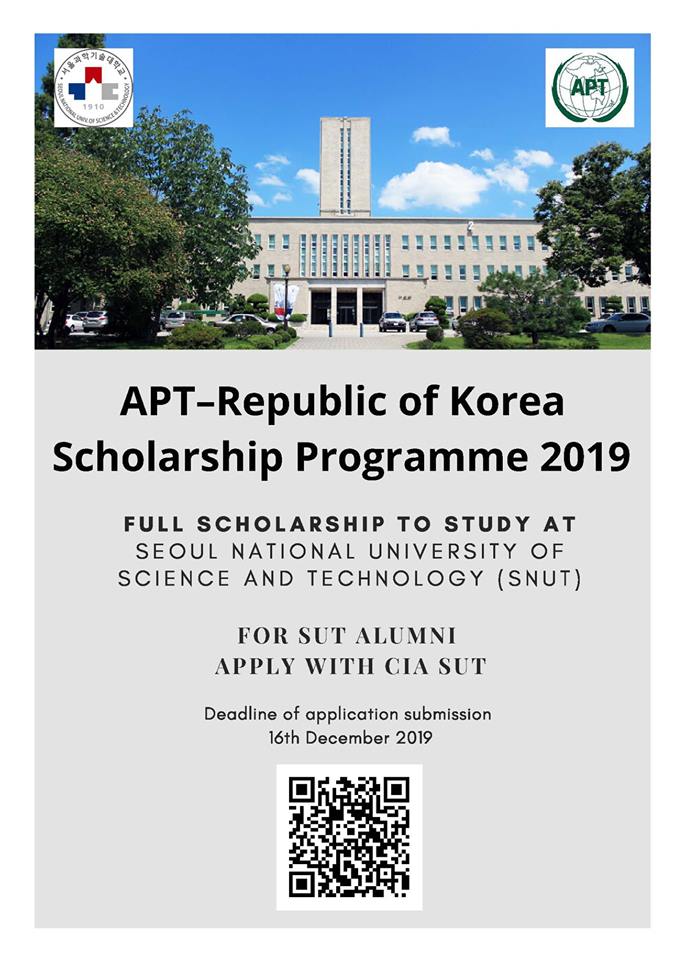 ASIA-PACIFIC TELECOMMUNITY (APT) have announced that there will be seven scholarships available from students who would like to pursue their study in a Master's degree and a Ph.D. degree under the project "APT–Republic of Korea Scholarship Scholarship Programme 2019."  Students who are awarded the scholarship will study at the following schools at Seoul National University of Science and Technology (SNUT), Republic of Korea:
School of Wireless Communications – 3 scholarships.
School of Machine Vision and Intelligence – 4 scholarships.
Those who would like to apply via the Centre for International Affairs (CIA) must hold a Bachelor's degree or a Master's degree from SUT.  Interested applicants can submit the application and supporting documents at CIA by Monday 16th December 2019.  An interview date will be set in due course.  Note that only 1 person can qualify through this process and will be announced on Wednesday 18th December 2019.
ทุนการศึกษาจาก ASIA-PACIFIC TELECOMMUNITY (APT)
ด้วย องค์การโทรคมนาคมแห่งเอเชียและแปซิฟิก ASIA-PACIFIC TELECOMMUNITY (APT) ประกาศให้ทุนการศึกษาจำนวน 7 ทุน ในระดับปริญญาโทและปริญญาเอก ภายใต้โครงการ APT–Republic of Korea Scholarship Programme 2019 เพื่อศึกษา ณ Seoul National University of Science and Technology (SNUT) สาธารณรัฐเกาหลี ดังนี้
1. สาขาวิชา Wireless Communications จำนวน 3 ทุน
2. สาขาวิชา Machine Vision and Intelligence จำนวน 4 ทุน
ผู้สมัครผ่านศูนย์กิจการนานาชาติมหาวิทยาลัยเทคโนโลยีสุรนารี จะต้องเป็นผู้สำเร็จการคึกษาระดับปริญญาตรีและปริญญาโท จากมทส. เท่านั้น โดยผู้สนใจจะต้องส่งเอกสารการสมัครและเอกสารประกอบที่ศูนย์กิจการนานาชาติ ภายในวันที่ 16 ธันวาคม 2562 และมีกำหนดสัมภาษณ์คัดเลือกผู้ที่จะได้รับการเสนอชื่อจาก มทส. จำนวน 1 คน ในวันที่ 18 ธันวาคม 2562

Translated by Chompookun Chatdon