Announcement of the successful candidates for the 2020 Royal Scholarship. Further details will be emailed to applicants directly.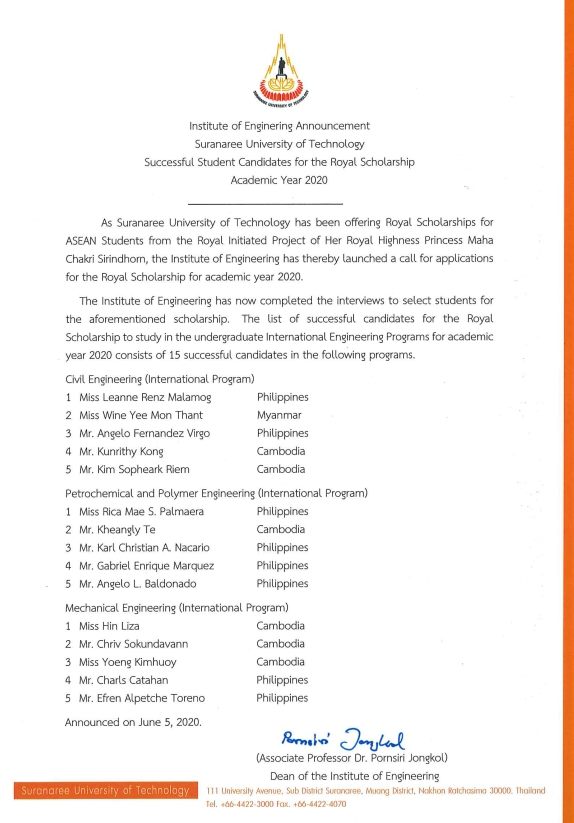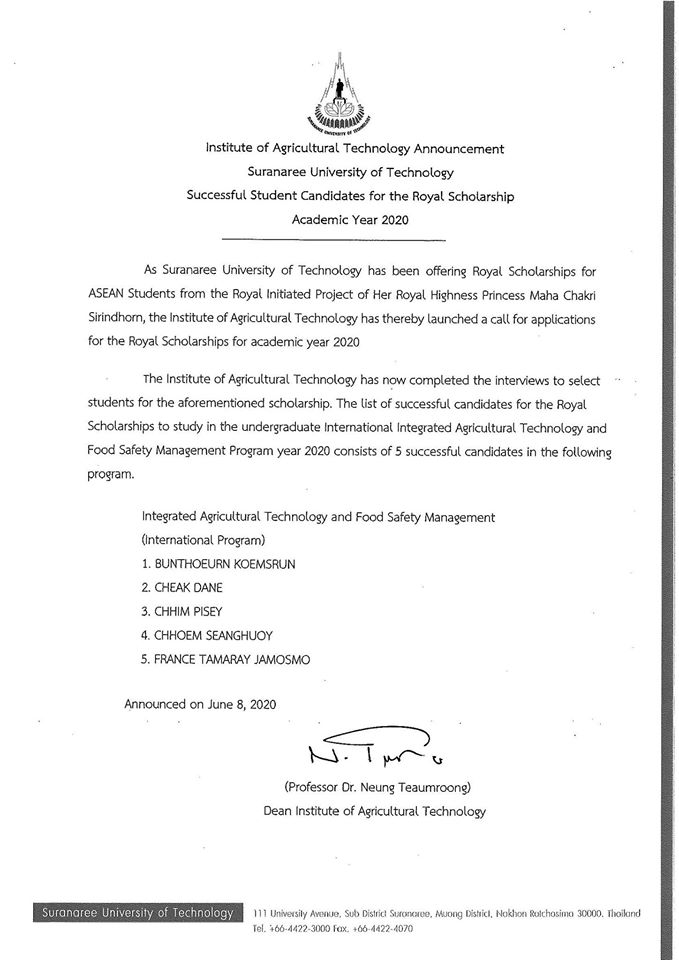 —————————————
(Application deadline has expired)
Royal Scholarship 2020 in Agricultural Technology and Engineering Technology
Institute of Engineering
S__52682786

20 FULL scholarships offered to ASEAN countries students (non-Thai)
Brunei, Cambodia, Indonesia, Laos, Malaysia, Myanmar, Philippines, Singapore and Vietnam
To study at Suranaree University of Technology(SUT), Thailand ??
International undergraduate programs in Engineering in Academic year 2020
⚙️ Petrochemical and Polymer Engineering
⚙️ Material Innovation and Design Engineering
⚙️ Civil Engineering
⚙️ Mechanical Engineering
APPLY NOW, please see details in the poster
Application submission deadline: 22th May 2020
Announcement of successful candidates: 5th June 2020
About SUT Institute of Engineering
https://youtu.be/MtXLBM3PPyY
Institute of Agricultural Technology
5 scholarships grant for ASEAN countries students (except Thai) to study in Bachelor of Science (Integrated Agricultural Technology and Food Safety Management) Program at Suranaree University of Technology on trimester/2020.
Scholarship Benefit:
-Tuition and all relevant fees waiver (4 Years)
-Cover health insurance
-4,000 Baht for monthly allowance
-Free accommodation
Requirement:
-A letter of purpose
-CV
-Transcript
-Standard English certificate (optional)
-No examination
#Submit your application materials to: panwong.kun@g.sut.ac.th
Selection timeline:
– Application submission deadline 15th May 2020
– Announce a list of selected applicants 22nd May 2020
– Online interview 31st May 2020 (to be confirm)
– Announce a successful applicants list 1st-5th June 2020 (to be confirm)
Institute of Agricultural Technology
Suranaree University of Technology
111 University Avenue, Suranaree Sub-District,
Muang Nakhon Ratchasima District,
Nakhon Ratchasima 30000 THAILAND