School of Electrical Engineering, Institute of Engineering, Suranaree University of Technology, Thailand,  is offering a research fellowship to candidates who have recently completed their doctoral studies in the field of Electrical Power and Energy Systems. Applications can be submitted directly to Asst. Prof. Dr. Boonruang Marungsri, bmshvee@sut.ac.th , School of Electrical Engineering and candidates of any nationality holding a PhD in the field mentioned are welcome.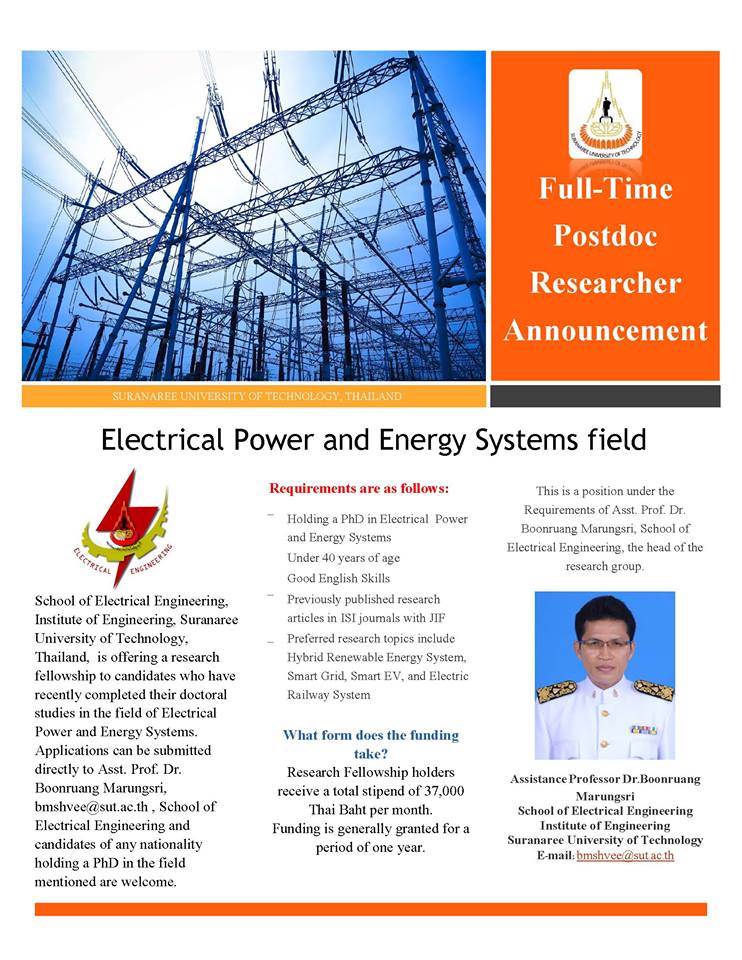 Requirements are as follows:
Holding a PhD in Electrical Power and Energy Systems
Under 40 years of age
Good English Skills
Previously published research articles in ISI journals with JIF
Preferred research topics include Hybrid Renewable Energy System, Smart Grid, Smart EV, and Electric Railway System
What form does the funding take?
Research Fellowship holders receive a total stipend of 37,000 Thai Baht per month.
Funding is generally granted for a period of one year. more information, please contact the head of the research group :
Assistance Professor Dr.Boonruang Marungsri
School of Electrical Engineering
Institute of Engineering
Suranaree University of Technology
E–mail: bmshvee@sut.ac.th