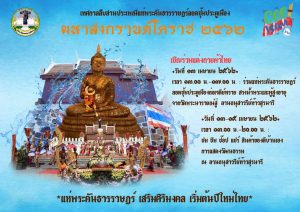 Don't miss this AWESOME traditional activity!!!
Dress Code : Thai traditional costume
April 13th, 2019
1 – 5pm. : Join the traditional activity of Phra Kantararat parade that pass through the city gate, build sand pagoda, and sprinkle scented water onto Buddha images and elderly.
Starting from Phra Narai Maharat temple to Thao Suranaree monument.
April 13th – 15th, 2019
1 – 8pm. : Watch, Taste, Shop, and Share our local OTOP products and the cultural performances at Thao Suranaree monument.