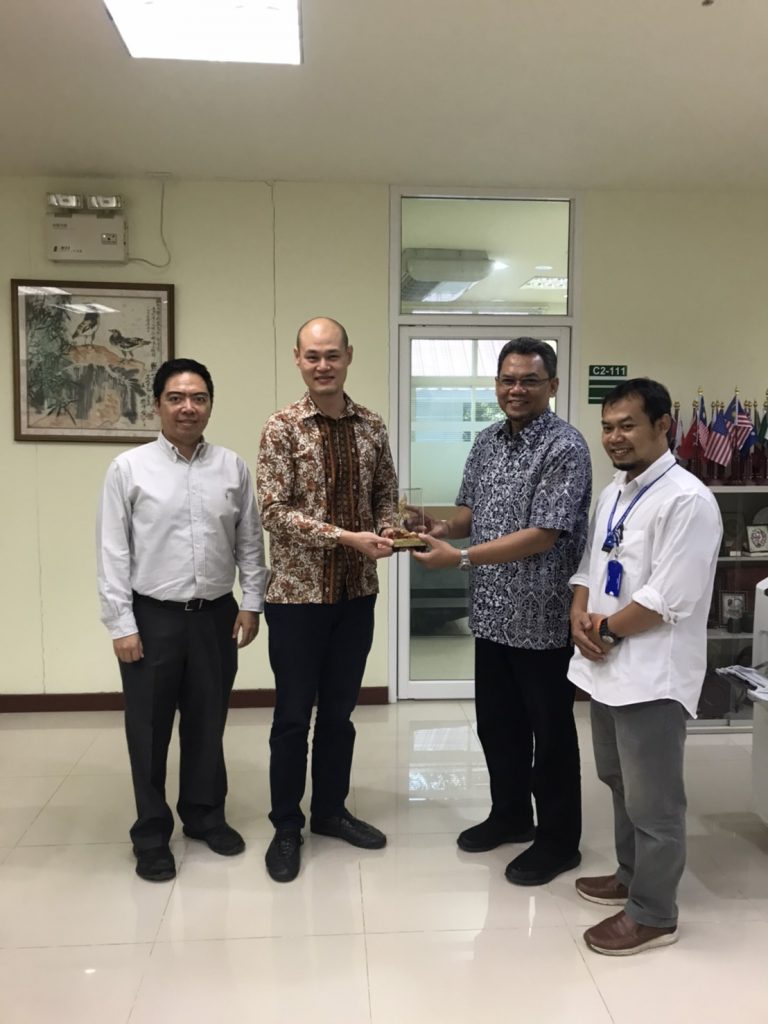 On 6th 2019, Associate Professor Dr. Sirichok Jungthawan, the Director of the Centre for International Affairs welcomed Dr.Pramono Nugroho, the Director of Lembage Ilmu Pengetahuan Indonesia (LIPI), Indonesian Institute of Sciences who visited Suranaree University of Technology to discuss academic collaborations.  The main focus of the discussion was on the exchange of students and researchers. This detail of the discussion is as follows.
It was agreed that internship students would be accepted for a period of three to six months between June and October.  This could begin in 2020.  Moreover, researcher exchange would be possible for a period of six to twelve months.  Below is the list of possible joint research projects:
– Food Technology
– Development of equipment / appropriate technology
–Production engineering/pilot plant
– Mechanical Engineering
– Electrical Engineering
– Chemical Engineering
– Industrial Engineering
– Soil and water
– SUT Farm
ผู้บริหารจาก Lembaga Ilmu Pengetahuan Indonesia (LIPI) หารือความร่วมมือกับ มทส.
เมื่อวันที่ 6 พฤศจิกายน 2562 รองศาสตราจารย์ ดร.สิริโชค  จึงถาวรรณ ผู้อำนวยการศูนย์กิจการนานาชาติ ให้การต้อนรับ Dr.Pramono Nugroho Director, Lembage Ilmu Pengetahuan Indonesia (LIPI), Indonesian Institute of Sciences ในการมาหารือความร่วมมือทางวิชาการกับมหาวิทยาลัยเทคโนโลยีสุรนารีเกี่ยวกับการแลกเปลี่ยนนักศึกษา การแลกเปลี่ยนนักวิจัย สรุปสาระสำคัญของการหารือมีดังนี้
การรับนักศึกษามาฝึกงาน/ฝึกประสบการณ์ใน (Internship) ระยะเวลา 3-6 เดือนในช่วงเดือนมิถุนายน – ตุลาคม โดยสามารถเริ่มได้ในปี 2563
การแลกเปลี่ยนนักวิจัยรุ่นเยาว์ (young researcher) ระยะเวลา 6-12 เดือน
การวิจัยร่วม (Joint research) ในหัวข้อดังต่อไปนี้
– เทคโนโลยีอาหาร (Food Technology)
– การพัฒนาเครื่องมือ จักรกลทางการเกษตรdevelopment of equipment / appropriate technology
– กระบวนการผลิต การสร้างโรงงานต้นแบบproduction engineering/pilot plant
– Mechanical Engineering
– Electrical Engineering
– Chemical Engineering
– Industrial Engineering
– Soil and water
– SUT Farm
ประมวลภาพกิจกรรม
cr: รองศาสตราจารย์ ดร.สิริโชค  จึงถาวรรณ ผู้อำนวยการศูนย์กิจการนานาชาติ
Translated by Chompookun Chatdon