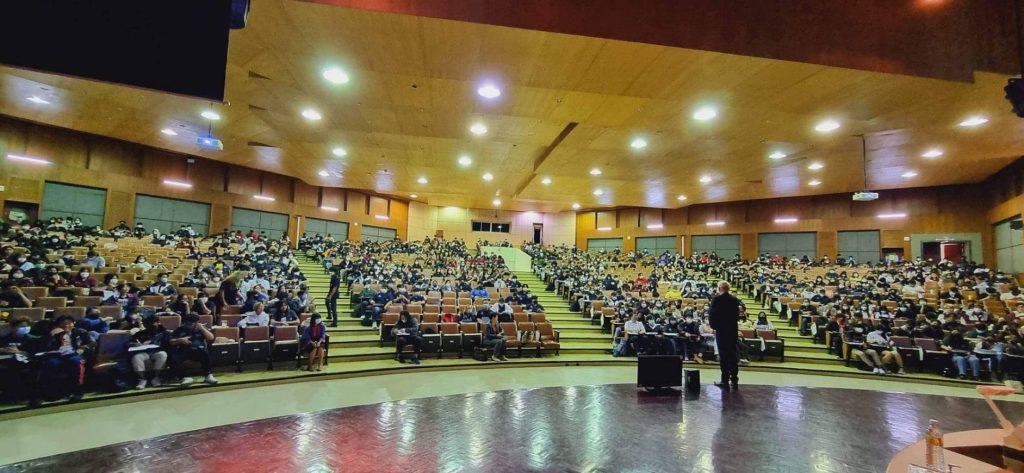 On Thursday, 23 February 2023, The Center for International Affairs (CIA) and The Center for Cooperative Education and Career Development (CCECD) invited Mr. Peter Bjork, Director of CCM Center for Change Management and Director of Thai-Swedish Chamber of Commerce (SweCham) to SUT for lecturing in Pre-Coop Class and to Introduce SweCham, sharing ideas on the collaborative opportunity to SUT researchers/lecturers.
Upon his arrival at SUT, Mr. Peter Bjork was warmly welcomed by Dr. Mullika Sungsanit, Vice-Rector for Engagement, Innovation, and Entrepreneurship and Asst. Prof. Dr. Wipawee Usaha, the Director for International Affairs (CIA). The three engaged in a fruitful discussion about the possibilities for collaboration between SUT, SweCham, and their partners.
Following the late afternoon, Mr. Peter Bjork went to lecture in the Pre-Coop class at B4101 Classroom Building Complex 1 (B1). More than 850 students attended the session, and it aimed to broaden their knowledge of foreign work culture, opportunities with multinational organizations, and how to prepare themselves before doing Pre-Coop, including stress handling. The goal was to inspire and prepare students for their upcoming work experience in the next semester.
Continuing Friday morning, 24 February 2023, Mr. Peter Bjork presented an informative talk on Swecham to interested faculty, researchers, and university personnel. During the presentation, attendees gained insight into the organization's history, mission, and benefits, including access to networking opportunities and events. Overall, the event was a success and gave attendees a greater understanding of what the organization can offer them as professionals.
After the informative SweCham at a Glance session, Mr. Peter Bjork handed us an exciting opportunity to meet with key representatives from the Institute of Engineering, including the Dean, Asso. Dr. Pornsiri Jongkol, the Deputy Dean for Administration, Asso. Dr. Padej Pao-la-or, Asst. Dr. Somsak Siwadamrongpong, Deputy Dean for Academic of the Institute of Engineering, and Dr. Aroonsri Nuchitprasittichai, Head of Office of Global Engagement, Institute of Engineering. The meeting was focused on discussing potential opportunities for SUT students to pursue pre-coop programs abroad and establish connections through SweCham. Overall, the discussion was productive and explored ways to help SUT students gain valuable international experience in their field of study.
Background with Swecham
SUT joined SWECHAM in May 2022 to create a university-industry link and, raise visibility & exposure for the university, and create opportunities to expand cooperation/research/coop education with global companies and institutions, both in SWECHAM and other foreign chambers of commerce partners.
Examples of SWECHAM members include ABB, AstraZeneca, Ikano (Ikea), Ericsson, Volvo, Electrolux, Tetrapak, and Sweden universities such as KTH Royal Institute of Technology, Jönköping University, Halmstad University, etc.
News by: Miss Sarathip Rodmek