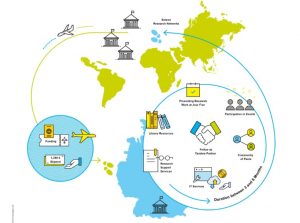 The Zukunftskolleg's AAA Fellowships support early career researcher from Africa, Asia and Latin America. The AAA Fellowships have a duration of up to three (or six) months and are offered to researchers related to one of the thirteen departments of the University of Konstanz. You can use this time to extend your research networks and to get to know the re-search environment at the University of Konstanz, without losing your ties to your home uni-versity. As these fellowships can build a first bridge to the German and European academic system, we also encourage doctoral students in their last year to apply. As a AAA Fellow, you will have a Zukunftskolleg Fellow as a partner who will help you integrate into your re-spective department and will support you during your research.
Funding follows DAAD rules and will include a stipend of 1.200€/ month and a contribution to travelling to Konstanz and back. The Zukunftskolleg will not offer employment contracts for AAA fellows. You may negotiate a contribution to health insurance and visa costs with the Central Office after the application was granted by the Executive Committee.
Deadline : March 31 and April 30, 2019
Follow this link for more information.