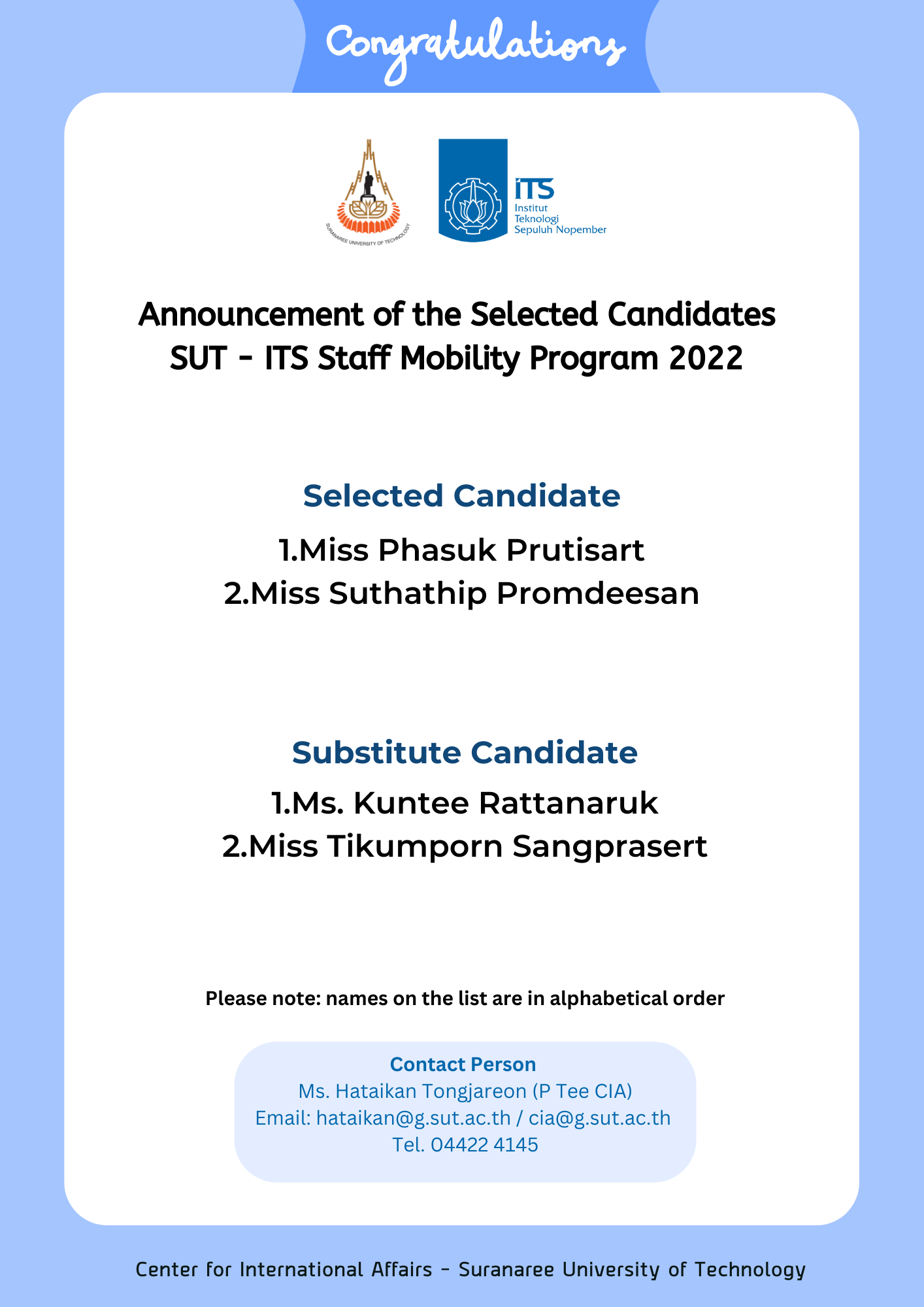 On Monday 3rd October 2022, Center for International Affairs (CIA) hosted the online interview session for the candidate selection for the SUT – ITS Staff Mobility program 2022. In the occasion, the representative from Academic Institutes was invited as a committee as following,
Associate Professor Dr. Mariena Ketudat-Cairns, Institute of Agricultural Technology
Arjarn Jason Biscombe, Institute of Social Technology
Aroonsri Nuchitprasittichai, Institute of Engineering
Assistant Professor Dr. Thanakamon Leesri, Institute of Nursing
Assistant Professor Dr. Piya-on Numpaisal, Institute of Medicine
Pawornwan Rittipakorn, Institute of Dentistry
Akkapon Wongkoblap, Institute of Digital Arts and Science
The interview was run for the 7 applicants with 1 withdrawal from 14.00 hrs. and the committees has selected the two candidates to be granted a partial budget support by Center for International Affairs including the two substitutes, names as following,
Selected Candidate
Miss Phasuk Prutisart
Miss Suthathip Promdeesan
Substitute Candidate
Ms. Kuntee Rattanaruk
Miss Tikumporn Sangprasert
*Please note, names on the list are in alphabetical order
Contact Person:
Ms. Hataikan Tongjareon (P Tee CIA)
Email: hataikan@g.sut.ac.th / cia@g.sut.ac.th
Tel. 04422 4145
Center for International Affairs – Suranaree University of Technology
———————————————————————
News: Candidate list Staff Mobility 2022 at ITS, No. 01-08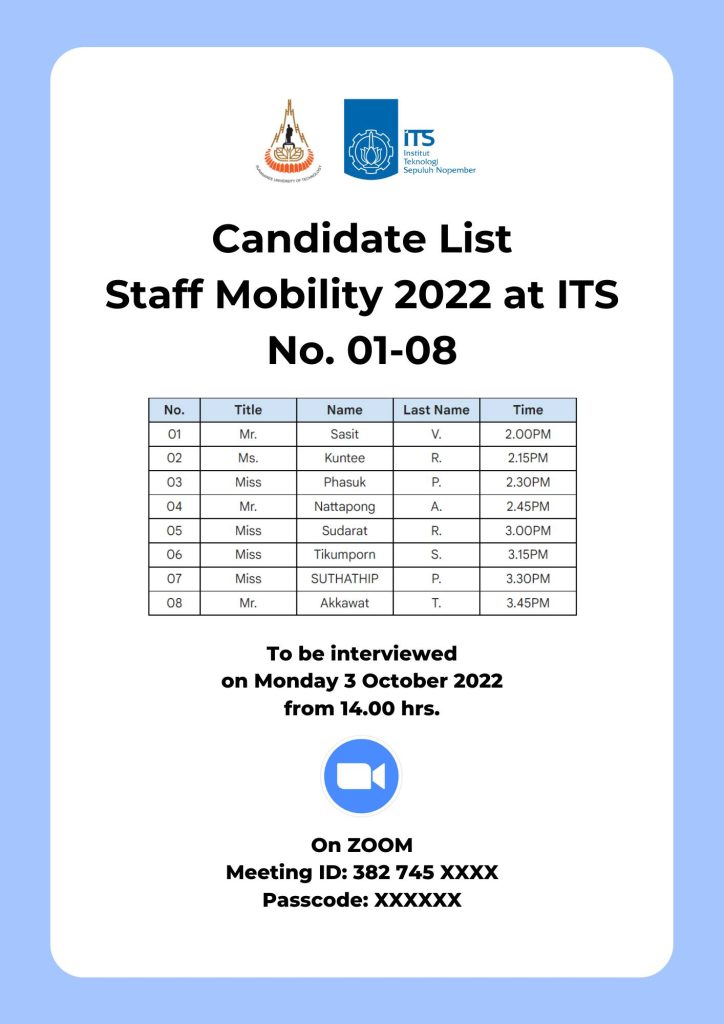 ---
News :
7436-ว45-15-9-65.pdf

ITS invites SUT Staff to participate in the SUT-Staff Mobility 2022 at ITS.
Institute Teknologi Sepuluh Nopember (ITS), the Republic of Indonesia, a partner with Suranaree University of Technology, has invited the nomination of operational personnel to participate in the staff exchange program "Staff Mobility 2022 at ITS" from November 14-18, 2022.
Important dates:
September 23, 2022: Last day of online application, interested applicants can apply for the program
at https://bit.ly/3Unfi2m
September30, 2022: Announcement for Interview
October 3, 2022: Interview select representatives to participate in the project
October4, 2022: Candidate Announcement
For more information, don't hesitate to get in touch with Ms. Hathaikan Thongcharoen tel. 4145.
ขอเชิญบุคลากรสายปฏิบัติ มทส. สมัครเข้าร่วมโครงการแลกเปลี่ยนบุคลากร SUT-Staff Mobility 2022 ณ ITS
ด้วย Institute Teknologi Sepuluh Nopember (ITS) สาธารณรัฐอินโนนีเซีย ซึ่งเป็นมหาวิทยาลัยคู่ความร่วมมือทางวิชาการกับมหาวิทยาลัยเทคโนโลยีสุรนารี ได้เชิญให้เสนอชื่อบุคลากรสายปฏิบัติการเพื่อเข้าร่วมโครงการแลกเปลี่ยนบุคลากร "Staff Mobility 2022 at ITS โดยไม่จำกักหน่วยงาน ระหว่างวันที่ 14-18 พฤศจิกายน 2565 ผู้สมัครที่ได้รับคัดเลือกจะได้รับทุนสนับสนุนบางส่วนจากศูนย์กิจการนานาชาติ
กำหนดการสำคัญการเกี่ยวกับการสมัครเข้าร่วมโครงการ :
วันที่ 23 กันยายน 2565 : วันสุดท้ายของการรับสมัครออนไลน์ ผู้สนใจสมัครเข้าร่วมโครงการฯ ได้ที่ https://bit.ly/3Unfi2m
วันที่ 30 กันยายน 2565 : ประกาศรายชื่อผู้มีสิทธิ์เข้ารับการสัมภาษณ์
วันที่ 3 ตุลาคม 2565 : สัมภาษณ์เพื่อคัดเลือกตัวแทนเพื่อเข้าร่วมโครงการฯ
วันที่ 4 ตุลาคม 2565 : ประกาศรายชื่อผู้ได้รับการคัดเลือก

ผู้สนใจสามารถสอบถามข้อมูลเพิ่มเติมได้ที่ นางสาวหทัยกาญจน์ ทองเจริญ โทรศัพท์ 4145