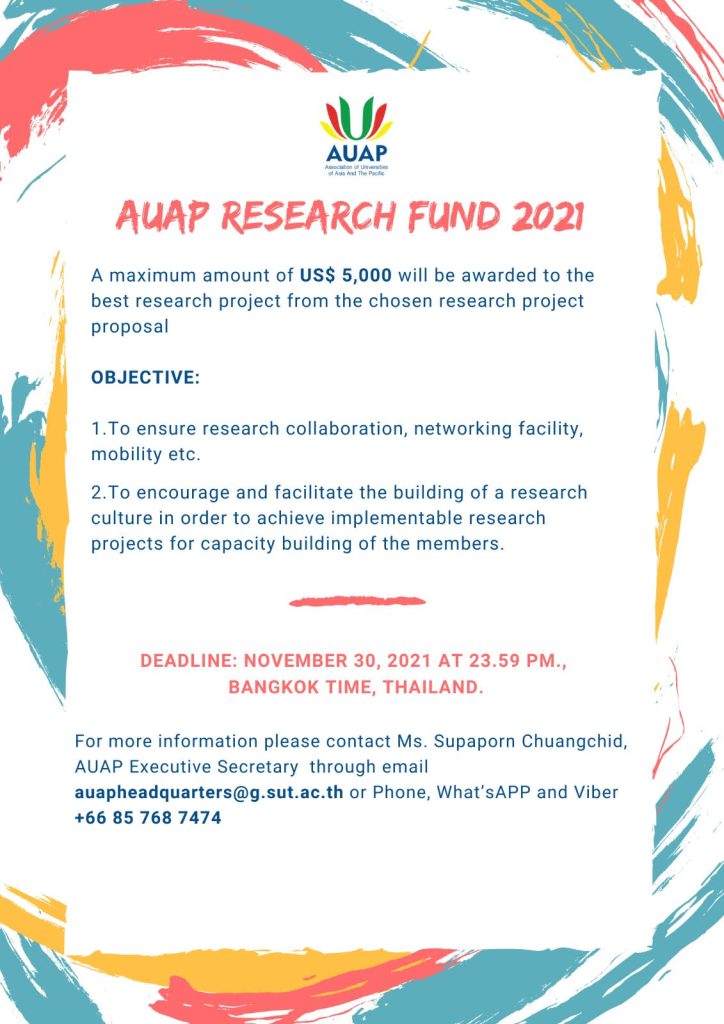 The Association of Universities of Asia and Pacific (AUAP) is pleased to launch the AUAP Research Fund 2021 project. The purpose is to promote and enhance mutually beneficial cooperation among educational institutions in relevant areas, and is dedicated to render such services to its member institutions. The research funding initiative is a testimony to seriously implement the mission of the AUAP which is to promote a culture of quality, innovation and research in the higher education sectors in the Asia and the Pacific region.
Suranaree University of Technology, as a valid member of AUAP, are invited to submit proposals as per prescribed application form for availing of the research grant offered by the AUAP following this Call for Proposals.
The objective of the AUAP Funding for 'Research Capacity Building' is to ensure research collaboration, networking facility, mobility etc. among the member institutions of the AUAP. The initiative has been taken to encourage and facilitate the building of a research culture in order to achieve implementable research projects for capacity building of the members. Please find a Call for Research Grant 2021 and the enclosed Application Form.
 A maximum amount of US$ 5,000 will be awarded to the best research project from the chosen research project proposal. The deadline to submit the proposal is on November 30, 2021 at 23.59 pm., Bangkok time, Thailand.
AUAP Call Research Fund Proposal 2021
  Download    
For more information please contact Ms. Supaporn Chuangchid, AUAP Executive Secretary through email auapheadquarters@g.sut.ac.th or Phone, What'sAPP and Viber +66 85 768 7474
more information please see http://auap.net/en/news/114/auap-research-fund-2021