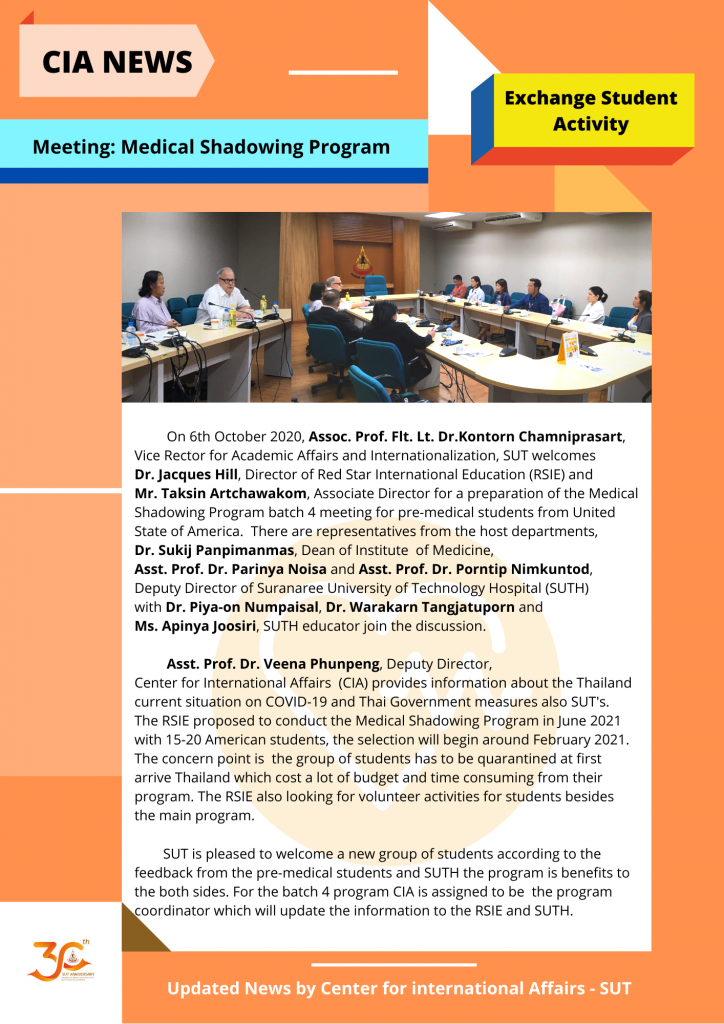 On 6th October 2020, Assoc. Prof. Flt. Lt. Dr.Kontorn Chamniprasart, Vice Rector for Academic Affairs and Internationalization, SUT welcomes Dr. Jacques Hill, Director of Red Star International Education (RSIE) and Mr. Taksin Artchawakom, Associate Director for a preparation of the Medical  Shadowing Program batch 4 meeting for pre-medical students from United State of America. There are representatives from the host departments, Dr. Suki Panpimanmas, Dean of Institute of Medicine, Asst. Prof. Dr. Parinya Noisa and Asst. Prof. Dr. Porntip Nimkuntod, Deputy Director of Suranaree University of Technology Hospital (SUTH) with Dr. Piya-on  Numpaisal, Dr. Warakarn Tangjatuporn and Ms. Apinya Joosiri, SUTH educator join the discussion.
Asst. Prof. Dr. Veena  Phunpeng, Deputy Director, Center for International Affairs (CIA) provides information about the Thailand current situation on COVID-19 and Thai Government measures also SUT's The RSIE proposed to conduct the Medical Shadowing Program in June 2021 with 15-20 American students, the selection will begin around February 2021.   The concern point is the group of students has to be quarantined at first arrive Thailand which cost a lot of budget and time consuming from their program.  The RSIE also looking for volunteer activities for students besides the main program.
SUT is pleased to welcome a new group of students according to the feedback from the pre-medical students and SUTH the program is benefits to the both sides. For the batch 4 program CIA is assigned to be the program coordinator which will update the information to the RSIE and SUTH.
Translated and News by: Miss Hataikan Tongiareon