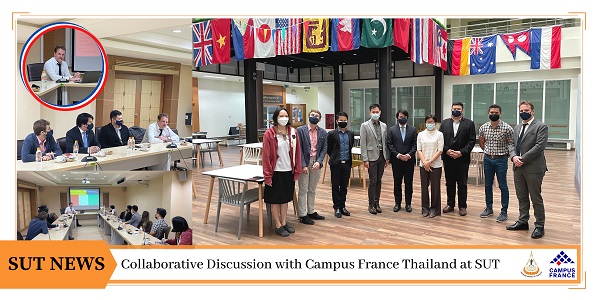 Unofficial Visit by Campus France Thailand on Friday October 29, 2021.
The Center for International Affairs (CIA), Suranaree University of Technology led by Asst. Dr. Wipawee Usaha, acting Director of the Center for International Affairs welcomes Mr. Guillaume DA, Attaché for Scientific and Higher Education Cooperation and the delegate from Campus France Thailand in an unofficial meeting on SUT-France educational collaborative development.

The discussion began with SUT sharing information on the university's international outlook including the activities we've done with the universities in France. The discussions covered the solution to issue the MOU on double degree program, joining the educational fairs and other virtual activities, including the possibility to link SUT undergraduate program to have an experience either on research or study in Universities in France.