On February 1st, 2019, SUT representatives attended in the Learning of the Ecology system of entrepreneurship at Technical University of Denmark (DTU), Denmark. Information of the event are as follows;
There were some presentations of how DTU support the creation of innovation and build entrepreneurship skills for their students and employees. DTU has established DTU Skylab that allows students to apply useful tools to create engineering prototypes as well as food technology. Students who have these abilities will have a chance to be a part of new development project in the sector and will be more beneficial comparing to the students who graduated without attending this program. Students will be the owner of their initiated project with the cognitive support from the university. University aimed to have a successful alumni and take a role in delivering their experiences and great support back to the university.
Joint cooperative plan includes DTU supports SUT employees to study and observe the project related to the courses, and the study of entrepreneurship research in order to utilize and solve the problems in the community.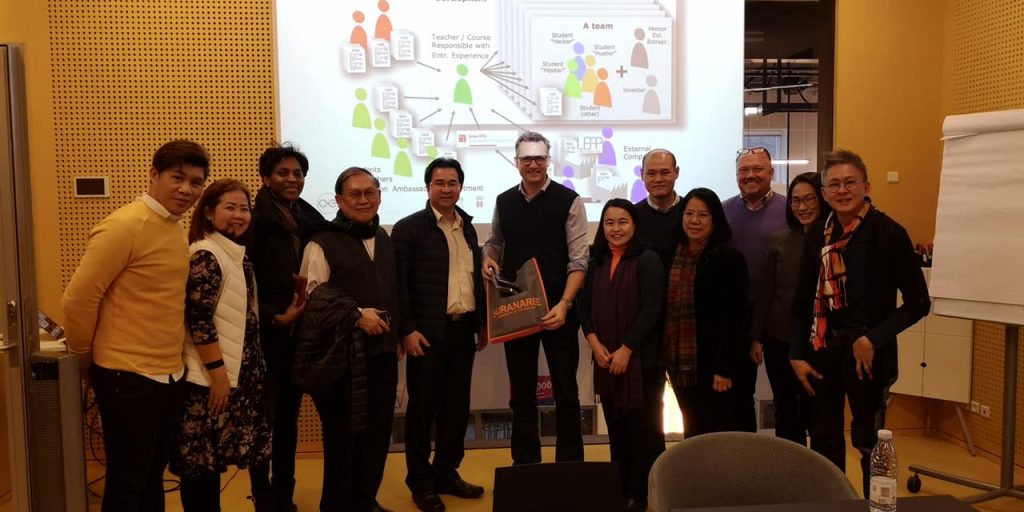 การเรียนรู้ระบบนิเวศของการส่งเสริมความเป็นผู้ประกอบการ ณ Technical University of Denmark (DTU), Denmark
วันที่ 1 กุมภาพันธ์ 2562 รองศาสตราจารย์ ดร.อนันต์  ทองระอา รองอธิการบดีฝ่ายวิจัย นวัตกรรม และพัฒนาเทคโนโลยี นำคณะผู้บริหารและพนักงานจาก มทส. ประกอบด้วย ผู้ช่วยศาสตราจารย์ ดร.พนารัตน์ รัตนพานี ผู้ช่วยอธิการบดีด้านพัฒนาการเรียนการสอนและความเป็นสากล ศาสตราจารย์ นพ.สุกิจ พันธุ์พิมานมาศ คณบดีสำนักวิชาแพทยศาสตร์ ศาสตราจายร์ ดร.หนึ่ง  เตี่ยอำรุง คณบดีสำนักวิชาเทคโนโลยีการเกษตร  อาจารย์ ดร.ชลาลัย หาญเจนลักษณ์ คณบดีสำนักวิชาสาธารณสุขศาสตร์ รองศาสตราจารย์ ดร.ยุพาพร รักสกุลพิวัฒน์ ผู้อำนวยการศูนย์บริการการศึกษา รองศาสตราจารย์ ดร.สิริโชค  จึงถาวรรณ ผู้อำนวยการศูนย์กิจการนานาชาติ อาจารย์ ดร.มัลลิกา สังข์สนิท หัวหน้าโครงการจัดตั้งสถานพัฒนาความเป็นผู้ประกอบการสำหรับนักศึกษาและ นายพงศ์วราวุฑฒิ หมื่นยุทธิ เจ้าหน้าที่บริหารโครงการและวิชาการ เดินทางไปศึกษาเรียนรู้ระบบนิเวศของการส่งเสริมความเป็นผู้ประกอบการ ณ Technical University of Denmark (DTU), Denmark โดยมีรายละเอียด ดังนี้
คณะผู้แทน มทส. ได้รับการบรรยายรูปแบบการส่งเสริมการสร้างนวัตกรรมและความเป็นผู้ประกอบการแก่นักศึกษาและบุคลากรของ DTU โดย DTU มีการจัดตั้งหน่วยงาน DTU Skylab เพื่อเป็นสถานที่ให้นักศึกษาเข้าใช้เครื่องมือต่าง ๆ เพื่อสร้างต้นแบบเชิงวิศวกรรมตลอดจนเทคโนโลยีอาหาร เพื่อพัฒนาทักษะความเป็นผู้ประกอบการให้กับนักศึกษาซึ่งเป็นที่ต้องการของตลาดแรงงาน โดยนักศึกษาที่มีทักษะนี้จะมีส่วนร่วมในการพัฒนาโครงการใหม่ ๆ ในหน่วยงานและเป็นมูลค่าเพิ่มเมื่อเทียบกับนักศึกษาที่จบตามหลักสูตรโดยไม่ผ่านกิจกรรมเสริมนี้ โดยนโยบายหนึ่งที่สำคัญคือนักศึกษาเป็นเจ้าของผลงานที่ได้จากการเรียน มหาวิทยาลัยทำหน้าที่ส่งเสริมกระบวนการคิดให้กับนักศึกษาโดยมุ่งหวังว่าเมื่อนักศึกษาประสบความสำเร็จจะกลับมาเป็นศิษย์เก่าที่มีบทบาทในการถ่ายทอดประสบการณ์และให้ความช่วยเหลือกลับมายังมหาวิทยาลัย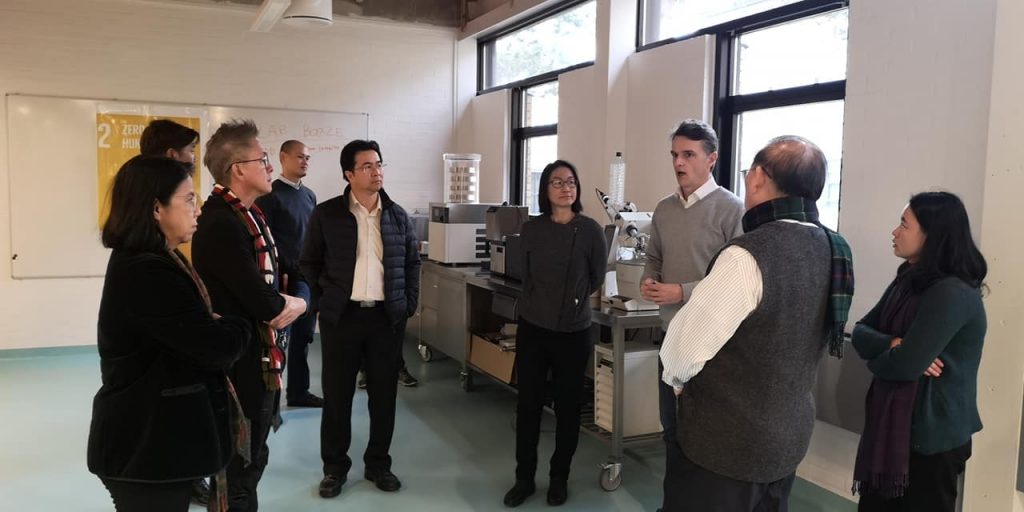 แผนความร่วมมือกิจกรรม ได้แก่ DTU ให้การสนับสนุนบุคลากรของ มทส. เพื่อมาศึกษาหรือสังเกตการณ์ในโครงการที่เกี่ยวข้องกับหลักสูตร และงานวิจัยด้านความเป็นผู้ประกอบการ เพื่อนำงานวิจัยไปใช้ประโยชน์หรือแก้ปัญหาในท้องถิ่น
Credit: ผู้อำนวยการศูนย์กิจการนานาชาติ
Translated by Prawpitcha Netcharoen