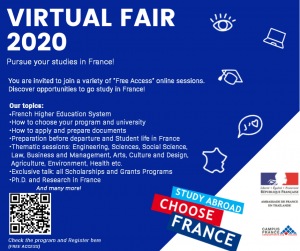 This is a great opportunity for you to discover France's excellence in Higher Education System, and increase your chance to go study in France!
We are offering various "free" sessions about "study in France" that match your interest. 
Examples of our topics:
French Higher Education System

How to choose your program and university

How to apply and prepare documents

Preparation before departure and Student life in France

Thematic sessions: Engineering, Sciences, Social Science,

 Law, Business and Management, Arts, Culture and Design,  Agriculture, Environment, Health etc.

Exclusive talk: all Scholarships and Grants Programs 

Ph.D. and Research in France
And many more!
To join:
Please visit this event page: https://www.facebook.com/events/252517189309154/
โอกาสที่จะได้รู้จักความเป็นเลิศด้านการอุดมศึกษาและโอกาสที่จะได้ไปเรียนต่อที่ประเทศฝรั่งเศส 
แคมปัสฟรานซ์-สถานทูตฝรั่งเศสประจำประเทศไทยภูมิใจนำเสนอ เซสชั่นแนะแนวการศึกษาออนไลน์ ฟรี! หลากหลายหัวข้อเกี่ยวกับการเรียนต่อฝรั่งเศส ที่มีให้เลือกตามความสนใจ อาทิ
ระบบการศึกษา

วิธีการเลือกหลักสูตร สถาบัน

ขั้นตอนเตรียมตัว เตรียมเอกสาร

การเตรียมตัวก่อนเดินทาง และชีวิตนักศึกษาในฝรั่งเศส

แนะแนวรายสาขา เช่น วิศวกรรมศาสตร์ สังคมศาสตร์ กฏหมาย วิทยาศาสตร์ บริหารธุรกิจ ศิลปะ สถาปัตยฯ เกษตร สิ่งแวดล้อม สุขภาพ ฯลฯ

เสวนาพิเศษ เจาะลึกทุนการศึกษาทุกระดับ

การเรียนต่อปริญญาเอกและการทำวิจัยในฝรั่งเศส

สัมภาษณ์พิเศษ ศิษย์เก่าหรือนักศึกษาไทยในฝรั่งเศส
และอื่นๆ อีกมากมาย
"ทุกหัวข้อ บรรยายออนไลน์ สามารถเข้าชมจากที่ไหนก็ได้! และไม่มีค่าใช้จ่ายใดๆ ทั้งสิ้น!"
====ดูรายการกิจกรรมและกำหนดการ และลงทะเบียนในลิ้งค์======
https://www.facebook.com/events/252517189309154/
Information from : Campus France Thailand, French Embassy