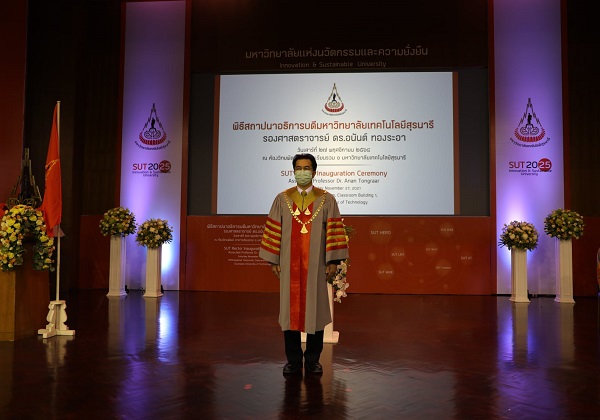 Held on Saturday November 27, 2021 at 10.00h, the traditional inauguration ceremony was held on the occasion that HM King Rama X has granted the appointment of Associate Professor Dr. Anan Tongraar as rector of Suranaree University of Technology on September 12, 2021. The event was held with limited attendance at Witthayaphat Classroom, Classroom Building 1, Suranaree University of Technology and was broadcasted via ZOOM complying to social distancing and COVID-19 preventive measures.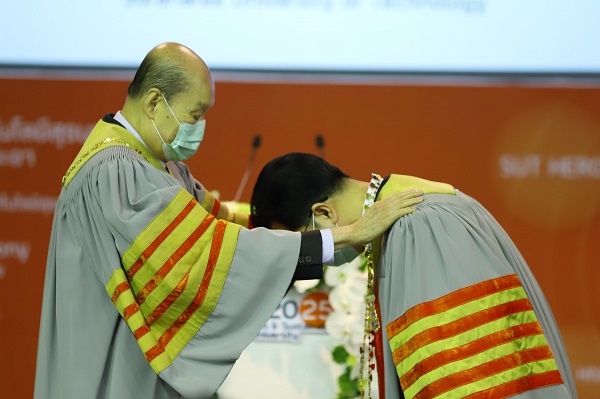 On this occasion, the SUT University Council Chairman read the announcement of the Prime Minister's Office on the Appointment of SUT Rector. Upon receiving the chain of office, the new rector then expressed gratitude to HM the King and gave a speech to the SUT community on his SUT 2025 policy pledging, "By 2025, I am determined to lead Suranaree University of Technology to the top university of technology in Thailand, driven by development and use of innovations founded on knowledge of science, technology and innovations advancing towards sustainable development to emerge as the Innovation and Sustainable University."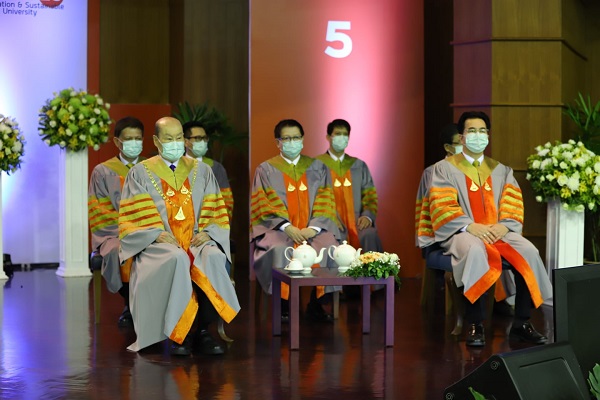 The SUT 2025 policy to transform SUT into the "Innovation and Sustainable University" sets forth 3 strategic aspects including, 1) the development of "Manpower for the Future," 2) the research and development of socioeconomic and environmental "Impactful Research and Innovation," 3) "Sustainable Development." The policy encompasses 5 main strategies, including
Strategy 1 Developing Manpower for the Future & Future Entrepreneurs
Strategy 2 Sustainable Research & Development
Strategy 3 Impactful Innovation & Entrepreneurship
Strategy 4 Internationalization & Local Engagement
Strategy 5 Operational Excellence

To drive the university under these 5 main strategies, the following seven initiatives have been set to strengthen the main strategies vertically, and horizontally to integrate cross-cutting platform strategies.

Initiative 1 SUT IIT : The university will establish the Institute of Innovation & Technology to enable a mechanism to encourage and support more integrated operations of Centers of Excellence (COE), strengthening each COE to create inventions which address the national and global issues.

Initiative 2 SUT LIFE : The university places emphasis on designing curricula for the future, lifelong learning and borderless education, up-skill/re-skill programs, modular programs, student entrepreneurship development programs.

Initiative 3 SUT HIVE : The university will upgrade Suranaree University of Technology Hospital into a Health Innovation Valley, reaping benefits from strong research and innovation of faculty members from various institutes.

Initiative 4 SUT HERO : The university is focused on providing a research ecosystem to support faculty members and researchers to accentuate high quality and high impact research, increase citations and increase world university rankings.

Initiative 5 SUT RISE : The university will recognize research outcomes with socioeconomic and environmental benefits.

Initiative 6 SUT Connect : The university will increase international connections to expand internationalization and reputation in the global community.

Initiative 7 SUT NExT (New S-Surve, Effectiveness, Excellence and Transparancy): The university will re-structure and refunction key internal units to align them with the SUT 2025 policy, foster awareness and engagement of SUT spirit, building a strong corporate culture defined by "SUT PRIDE" accentuated by "self good-governance."

The tangible outcomes expected from the 4-year term as Rector of Suranaree University of Technology will be SUT's rise in the world university rankings to the 3rd in the country and the 1st among universities of technology in Thailand. SUT will excel in all its missions emerging as a university of innovation which can put forth its knowledge in science and technology to enable economic, societal and environmental impacts. SUT will achieve its stance as a sustainable university and social accountability.
News source : https://www.facebook.com/120810127931722/posts/4885391904806830/
Translated by : Asst. Prof. Dr. Wipawee Usaha, Acting Director, Center for International Affairs