รายชื่อผู้ได้รับคัดเลือกเข้าร่วมโครงการ SUT Research Exchange Program 2022
Mr. Titouan Gustave Auffret, ชาวฝรั่งเศส นักศึกษาระดับปริญญาโทจากมหาวิทยาลัย Universite de Lorraine ได้รับคัดเลือกให้เข้าร่วมโครงการ SUT Research Exchange Program 2022 เพื่อปฏิบัติงานวิจัยร่วมกับผู้ช่วยศาสตราจารย์ ดร.กมลชนก  อำนาจกิติกร อาจารย์สาขาวิชาเทคโนโลยีการผลิตพืช สำนักวิชาเทคโนโลยีการเกษตร ในหัวข้อ "Study the effect of photoperiod and light quality on molecular and physiological changes of cannabis plants." เป็นระยะเวลา 5 เดือน เริ่มตั้งแต่วันที่ 18 เมษายน – วันที่ 16 กันยายน 2565
Ms. Rasiatia Ramadhani นักศึกษาจาก Diponegoro University เดินทางปฏิบัติงานวิจัยในที่ปรึกษาของ ดร.พงษ์เดช ภิรมย์อยู่ นักวิจัยสถาบันวิจัยและพัฒนา ในหัวข้อการวิจัย "Cloning and Expression of Green Fluorescent Protein in Bacillus altitudinis P-10 as a Biopesticide Agent in Sustainable Organic Agriculture" เป็นระยะเวลา 4 เดือน ตั้งแต่วันที่ 18 พฤษภาคม – 18 สิงหาคม 2565
---
Announcement : SUT Research Exchange Program (SUT-REP) 2022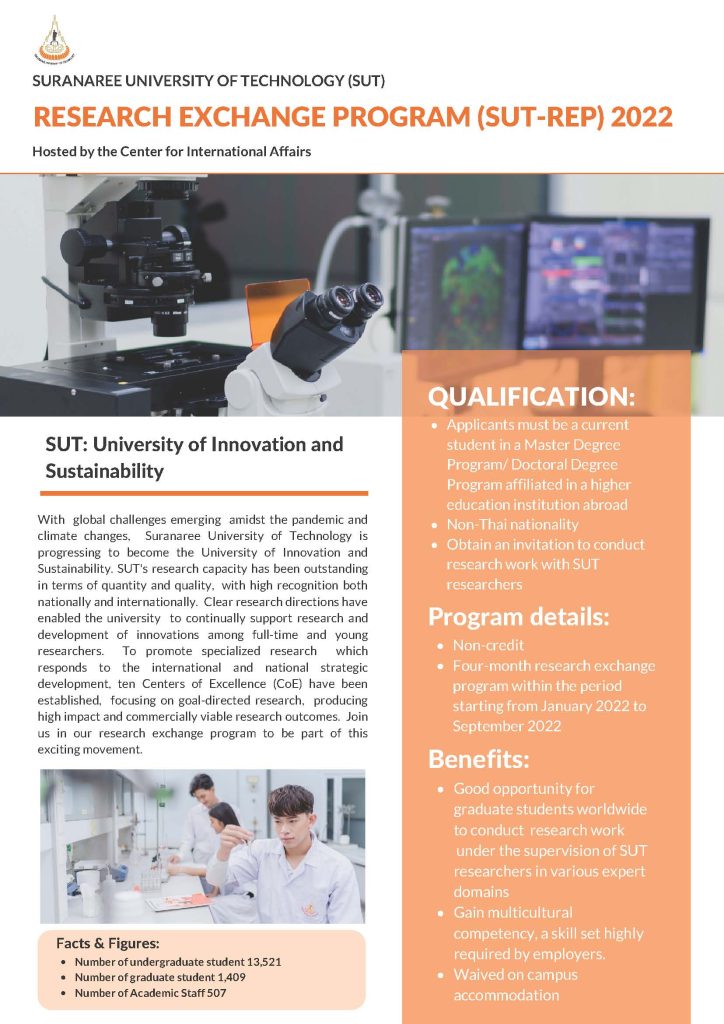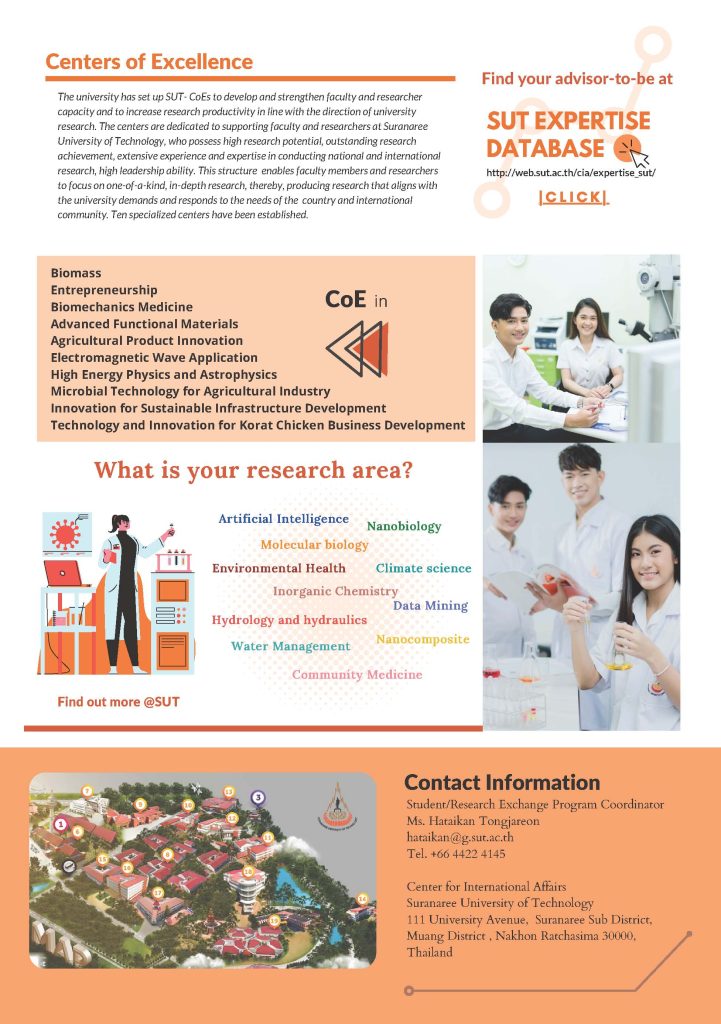 A good opportunity for your masters/doctoral students to visit SUT through the SUT Research Exchange Program (SUT-REP) 2022

The program is offered to students from SUT partnering universities to carry out research work at SUT for 4 months with SUT researchers with free accommodation on campus.
Apply now via Online Application form https://forms.gle/99SCqjtDkFaHTtj7A

Please note that the students must cover their own travel fee, visa fee, travel insurance fee and personal expenses.
For more information, please contact Student/Research Exchange Program Coordinator.
Ms. Hataikan Tongjareon
e-mail : hataikan@g.sut.ac.th
Tel. +66 4422 4145
Center for International Affairs
Suranaree University of Technology
111 University Avenue, Suranaree Sub District,
Muang District , Nakhon Ratchasima 30000, Thailand
We look forward to welcoming you and offering an enriching research and cross-cultural experience at SUT.