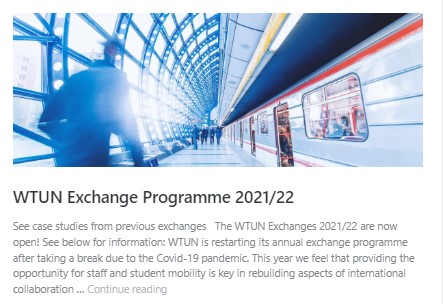 Call for Grant : WTUN EXCHANGE PROGRAMME 2021/22
– There are 20 grants available of £2000 each for staff (academic and professional services) and PhD students to visit another member institution.
– Activities include, but not limited to:
collaborative research between member universities;
capacity-building, including collaborative teaching initiatives among member universities;
developing position and policy statements;
facilitating links between world technology universities and industry, NGOs and SMEs.
-Encouraged proposals on:
Innovation and Entrepreneurship;
ender Equity;
Clean Water and Sanitation;
Sustainable Cities and Communities;
Affordable and Clean Energy – new for 2021;
Climate Action – new for 2021;
International collaboration between HE institutions post-covid – new for 2021.
-Application period: Jan 6- March 31, 2022
For more details: https://www.wtu-n.net/exchanges/
สำหรับผู้สนใจเสนอโครงการชาว มทส. สามารถส่งโครงการภายในวันที่ 30 มีนาคม 2565 ผ่านศูนย์กิจการนานาชาติ ตามหนังสื่อที่ อว 7436/ว 3 ลงวันที่ 11 มีนาคม 2565
cr: Photo from https://www.wtu-n.net/exchanges/