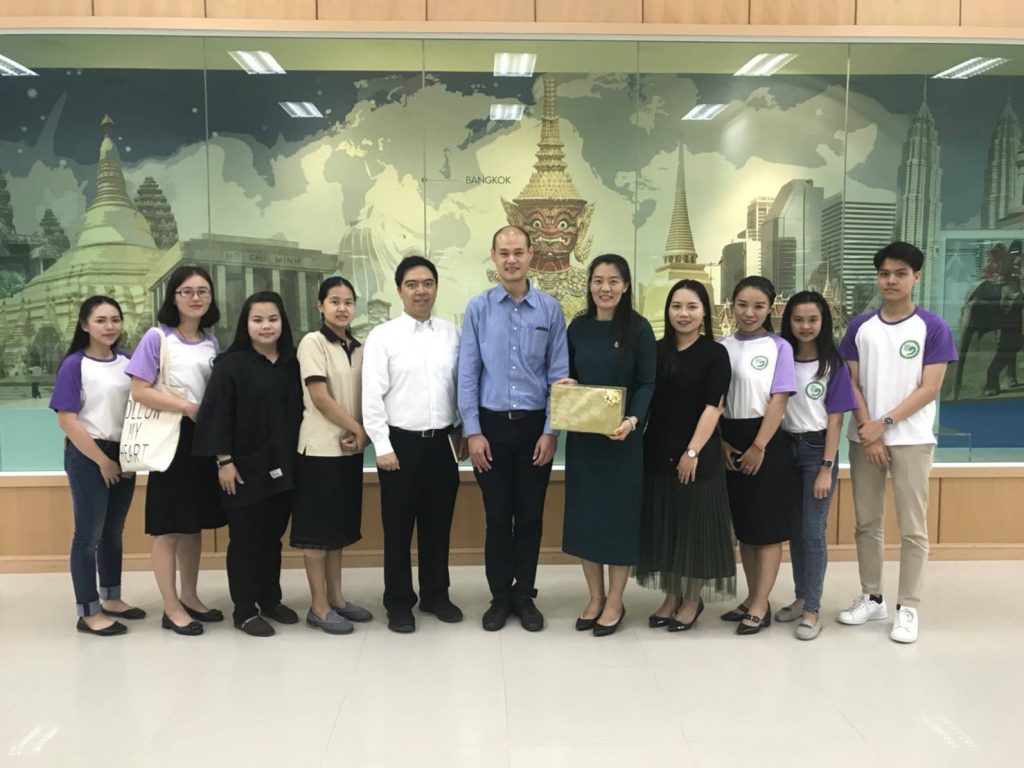 Ms. Wang Shangxue, the Director of Maritime Silk Road Confucius Institute, led a party of eight delegates to visit Suranaree University of Technology (SUT) on Thursday 7th June 2018. This visit was a result of SUT having signed a Memorandum of Understanding with Maritime Silk Road Institute last year.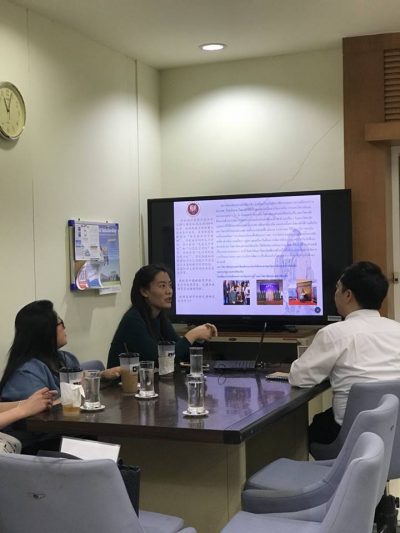 The Director of the Centre for International Affairs (CIA), the Deputy Director, CIA staff and Ajarn Rungrueng Vachiralappaitoon (from the School of Foreign Languages) were there to welcome Ms. Shangxue and her team.
Ms. Wang Shangxue was only promoted to be the Director of Maritime Silk Road Institute by Hanban (the Office of Chinese Language Council) eight months ago, so this was her first visit toSUT. Ms. Shangxue and the delegates spent almost two hours at the Classroom Building Complex and the Foreign Language Resources Unit (FLRU). Ms. Shangxue also had a chance to speak to SUT students who were learning Chinese using our online system at FLRU. She said afterwards that she was very impressed with the facility that SUT had to help students learn Chinese and other languages.
The main purposes of the visit of Maritime Silk Road Institute were:
1. To discuss how SUT and Surawiwat School could increase the number of Chinese instructors or teachers,
2. To discuss the possibility of setting up a branch of Maritime Silk Road Institute at SUT,
3. To establish a Chinese proficiency (HSK) test centre at SUT,and
4. To provide full scholarships to SUT students who would like to pursue a career in teaching Chinese.
After the discussion, we concluded that to have more Chinese teachers and to establish a Maritime Silk Road Institute branch would require a lot of time and processes. However, the establishment of the test centre would be something that could be done quickly.
Everything that was discussed here would be put forward to theSUT Academic Affairs and Internationalisation team to consider.
The visit of Maritime Silk Road Institute has shown and proved that SUT not only sees English as a global language, but believes in the importance of Chinese language as well.  ::: Photo gallery :::
Informed Source:  
 SUT Academic Affairs and Internationalisation