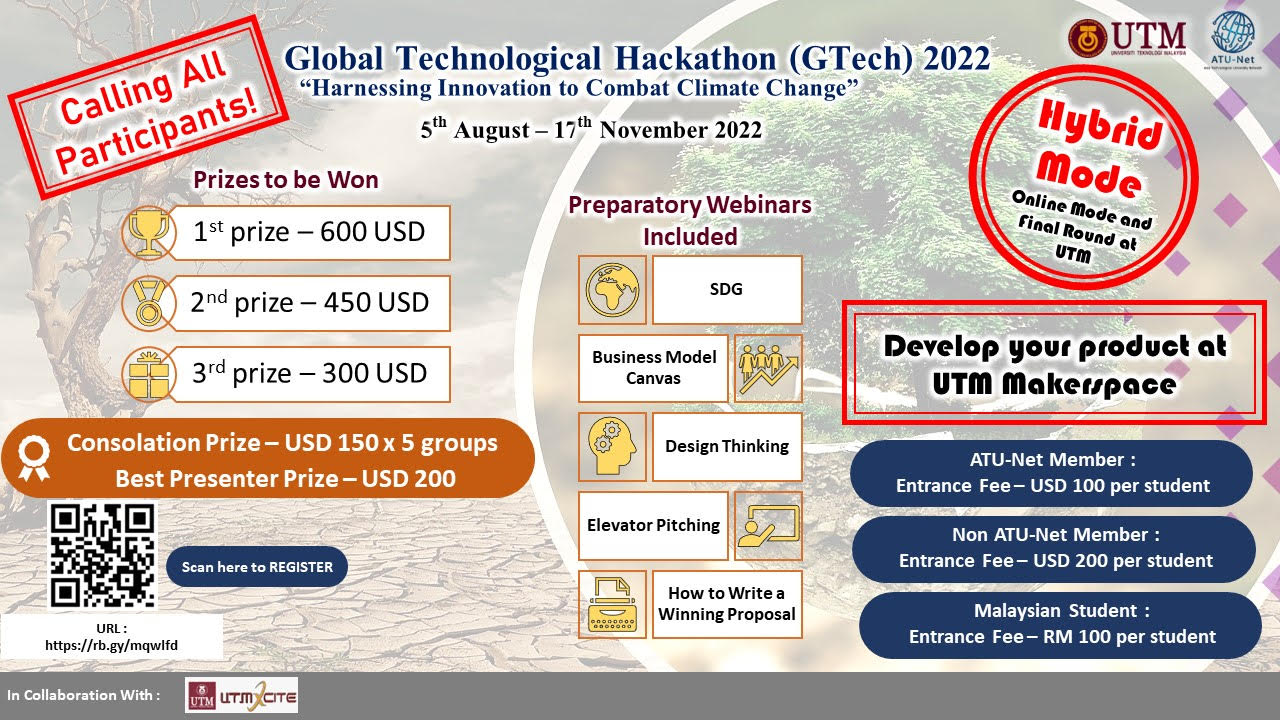 Asia Technological University Network (ATU-Net) is organising ATU-Net Global Technovation Hackathon 2022 (ATU-Net GTech 2022), which will be hosted by Universiti Teknologi Malaysia (UTM).

All students from ICT, Engineering, Management and Business academic backgrounds are welcome to participate in ATU-Net GTech 2022. Themed "Harnessing Innovation to Combat Climate Change", ATU-Net GTech 2022 will be conducted in hybrid mode, of which finalists will be competing at UTM, Malaysia physically for the final sprint. ATU-Net GTech 2022 is a collaborative work with industries and will feature prominent webinar speakers of various fields.
DON'T MISS THE OPPORTUNITY!!
Great networking sessions with students from other countries, learning opportunities via webinar sessions, and mentoring are curated during the 2nd evaluation to help guide students towards becoming the champion. All teams will stand a chance to win CASH PRIZES and the top 3 winners will have special slots to present their winning ideas at the UTM University Presidents Forum on 18th November 2022 (Friday).
The online event will be launched on 5th August 2022 (Friday). Hurry up and secure your spot by 31st July 2022 (Sunday). REGISTER NOW!!!  https://forms.gle/TGoWqB7icjZrANk38.
For more details, kindly visit the website at https://atunet.org/atunetgtech2022/.