SUT student activity "Learning ASEAN Languages"
The Center for Foreign Studies hosted ASEAN Language Learning "Learn the ASEAN language," including Laos, Vietnam, Cambodia, the Philippines. Indonesian and Burmese for SUT's students.
The purpose to promote foreign language learning and designed to promote international dimension and build relationships between Thai and foreign students. Each activities will take 2 hours per day, 2 hours per day, Tuesday and Wednesday from 7am to 7pm at C2-124, 1st floor.
Speakers and Schedule:
Miss Manila Souksavanh, a student in Master Degree program, School of Biotechnology, (Lao Language, 27-28 March 2018)
Miss Chau Ngoc Tran, a student in PhD Degree program, (Vietnamese language, 3-4 April 2018)
Miss Nangsamith Each, a student in Master Degree program (Cambodian language, 10-11 April 2018)
Mr. William JR.Magday, a PhD Degree program, (Filipino language, 18-19 April 2018)
Ms. Windy Metasari, a PhD Degree program, (Bahasa language, 24-25 April 2018)
Ms. Ei Ei Mon, a PhD Degree program, (Burmese language, 1-2 May 2018)
ศูนย์กิจการนานาชาติ จัดกิจกรรมการเรียนรู้ภาษาอาเซียนเบื้องต้น 6 ภาษา "Learning ASEAN Languages"  ได้แก่ ภาษาลาว ภาษาเวียดนาม ภาษากัมพูชา ภาษาฟิลิปปินส์ ภาษาอินโดนีเซีย และภาษาเมียนมา ให้กับนักศึกษา มทส. และผู้สนใจ วิทยากรโดยนักศึกษานานาชาติเจ้าของภาษา กิจกรรมดังกล่าวนี้มีวัตถุประสงค์เพื่อส่งเสริมการเรียนรู้ภาษาต่างประเทศและเสริมสร้างบรรยายกาศความเป็นนานาชาติและสร้างความสัมพันธ์ระหว่างนักศึกษาไทยและนักศึกษานานาชาติ โดยแต่ละภาษาจะใช้เวลาเรียน 2 วัน วันละ 2 ชั่วโมง ทุกวันอังคารและพุธ ตั้งแต่แวลา 17.00-19.00 ณ ห้องประชุม C2-124 ชั้น 1 อาคารวิชาการ 2  ::: ภาพข่าว :::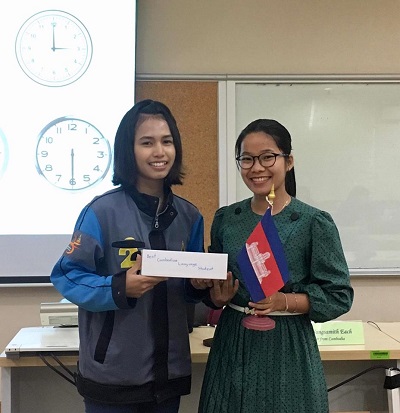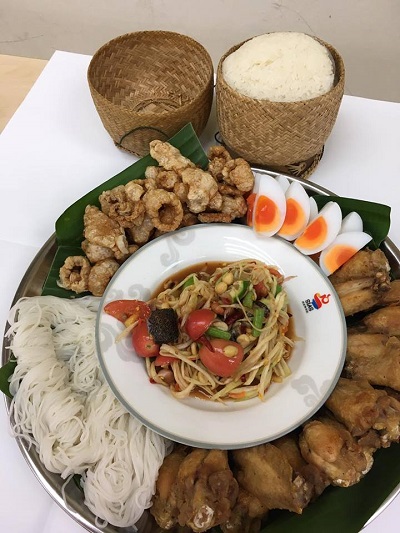 รายชื่อวิทยากรและตารางเรียน
Miss Manila  Souksavanh นักศึกษาจากสาธารณรัฐประชาธิปไตยประชาชนลาว สังกัดสาขาวิชาเทคโนโลยีชีวภาพ สำนักวิชาเทคโนโลยีการเกษตร สอนภาษาลาว ระหว่างวันที่ 27-28 มีนาคม 2561
Miss Chau Ngoc Tran นักศึกษาจากสาธารณรัฐสังคมนิยมเวียดนาม สัดกัดสาขาวิชาวิศวกรรมระบบอุตสาหกรรมและสิ่งแวดล้อม สำนักวิชาวิศวกรรมศาสตร์ สอนภาษาเวียดนาม ระหว่างวันที่ 3-4 เมษายน 2561
Miss Nangsamith Each นักศึกษาจากราชอาณาจักรกัมพูชา สังกัดสาขาวิชาภาษาต่างประเทศ สำนักวิชาเทคโนโลยีสังคม สอนภาษากัมพูชา ระหว่างวันที่ 10-11 เมษายน 2561
Mr. William JR.Magday นักศึกษาจากสาธารรัฐฟิลิปปินส์ สังกัดสาขาวิชาภาษาต่างประเทศ สำนักวิชาเทคโนโลยีสังคม สอนภาษาฟิลิปปินส์ ระหว่างวันที่ 18-19 เมษายน 2561
Ms. Windy Metasari นักศึกษาจากสาธารณรับอินโดนีเซีย สังกัดสาขาวิชาภาษาต่างประเทศ สำนักวิชาเทคโนโลยีสังคม สอนภาษาบาฮาซา ระหว่างวันที่ 24-25 เมษายน 2561
Ms. Ei Ei Mon นักศึกษาจากเมียนมา สังกัดสาขาวิชาวิศวกรรมขนส่ง สำนักวิชาวิศวกรรมศาสตร์ สอนภาษาเมียนมา ระหว่างวันนที่ 1-2 พฤษภาคม 2561