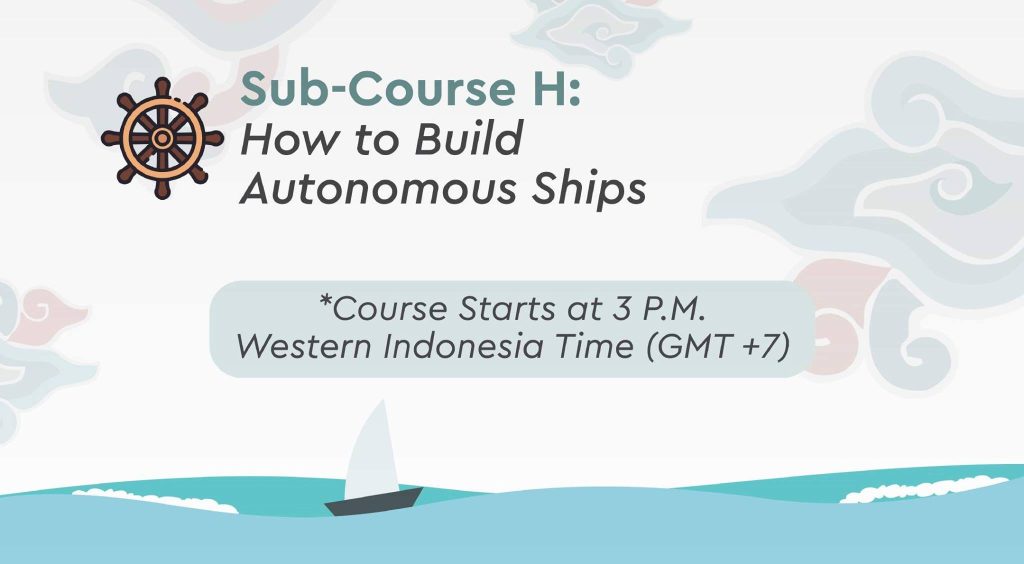 CommTECH Course 2021 Online Edition: How to Build Autonomous Ships is an online course offered by Institut Teknologi Sepuluh Nopember (ITS) to be attended from 23 August – 3 Sept 2021. ITS offer 1 free slot for SUT student, if you are interested in the topic, please apply.
APPLY NOW! for SUT student ONLY!!!
https://forms.gle/8gozN4JTTWYf3Bre9
Application period: NOW – 10th August 2021 at 16.30hrs. (Thailand time)
Sub Course H: How to Build Autonomous Ships
This course will be held on 23 August – 3 Sept 2021, start on 03.00 PM (GMT +7, Surabaya Zone Time)
Synopsis:
Interest in autonomous and remotely-controlled ships is growing fast. Enabled by recent developments in sensor technology, connectivity at sea, and analysis and decision support software and algorithms, the first commercial projects are ready for launch in the near future. Autonomous surface vehicles (ASV) are vehicles that operate on the surface of the water (watercraft) without a crew. This topic will focus on what is autonomous surface vehicles, their missions, their unique features, as well as ship design process that include Archimedes theory, Lines Plan, General Arrangement, and ship production process. These basic knowledge will be required when the participants create a ship prototype in accordance with the design that has been determined. At the end of the course, the participants should be able to have a capability to build a ASV prototype.
Instructor Coordinator: Wasis Dwi Aryawan, Ph.D (CV Dr. Wasis)
Syllabus: Sub Course H Syllabus click the link below
https://www.its.ac.id/…/Sub-Course-H-Syllabus-CommTECH…
Center for International Affairs (CIA) will contact you for selection process.
For more information please contact Center for International Affairs (CIA) at https://www.facebook.com/sutcia Ms. Hataikan Tongjareon at email: hataikan@g.sut.ac.th