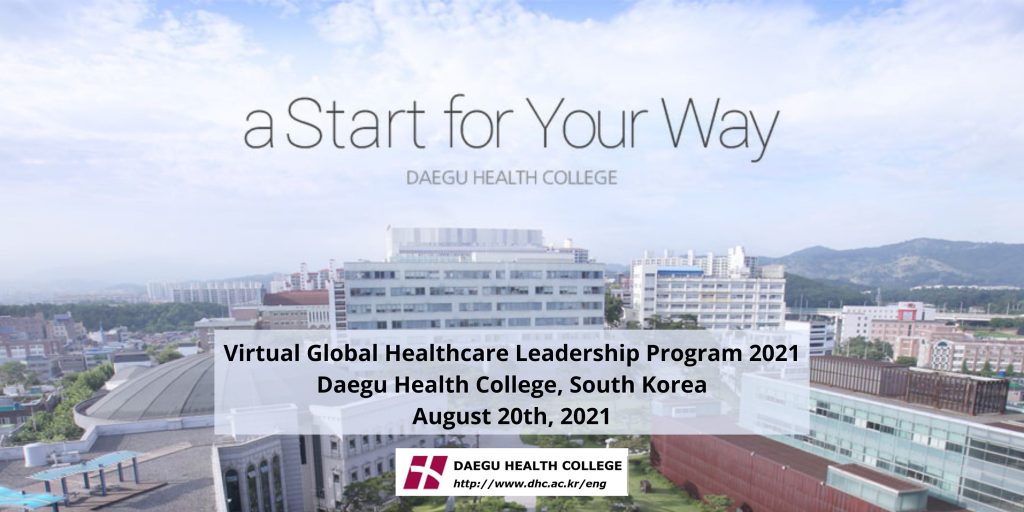 APPLY NOW! For SUT undergraduate student only!
https://forms.gle/hWo5TzdjHWuRPCiN8
The Virtual Global Healthcare Leadership Program 2021 is hosted by Daegu Health College, South Korea on 20th August 2021. DHC provide 2 seats for SUT students.
Please apply NOW – 17th August 2021
PROGRAM DESCRIPTION
Daegu Health College's Virtual Global Healthcare Leadership Program 2021 offers students the opportunity to undertake a challenging extra-curriculum program for a day amid the prolonged COVID-19 pandemic. The program targets students who are interested to see their personal growth in inclusive environments and want to share knowledge for being a successful leader in times of difficulty and uncertainty. Special lectures on healthcare and leadership will be given, followed by student group discussions & presentations all conducted in English.
On Friday 20th August 2021
Program schedule (Korea time) on Zoom
11:00 ~ 11:10 Opening remarks
11:10 ~ 12:00 Special lecture on healthcare
12:10 ~ 13:00 Special lecture on leadership
13:00 ~ 14:00 Lunch
14:00 ~ 15:00 Discussion
15:00 ~ 16:00 Presentation
16:00 ~ 17:00 K- Pop Dance Class
17:00 ~ 17:30 Award announcement & closing
Students will be grouped far before the program date and will get a chance to interact with their group members through SNS. A certificate will be given to all participants and a prize will be provided to the presentation winners.
FOR ADDITIONAL INFORMATION, PLEASE CONTACT:
Center for International Affairs (CIA)
https://www.facebook.com/sutcia
Ms. Hataikan Tongjareon at email: hataikan@g.sut.ac.th