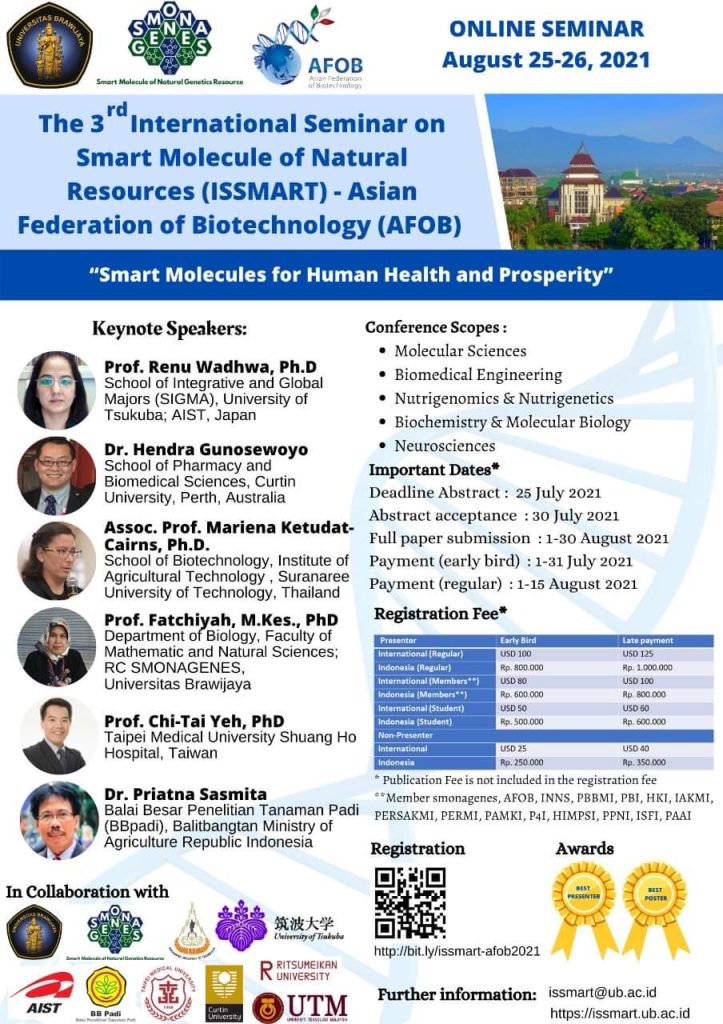 ISSMART 2021 is a joint conference, organized by Research Centre SMONAGENES and AFOB (Asian Federation of Biotechnology). The conference will be held as online conference. ISSMART 2021 invites scientists, researchers, and professionals to attend and present their works in oral and poster presentation (limited spaces) by submitting a short abstract for consideration. The abstracts will be peer-reviewed and the acceptance for presentation will be announced.
The seminar facilitates of researchers and academic members or experts from universities, government research institutions, private sectors, and non-government organization to share their knowledge and experience through the discussion on plenary session, inviting speaker and parallel session of oral presentation.
This year seminar theme is "Smart Molecules from for Human Health and Prosperity", which covers a broad range of research field with various scopes:
• Biochemistry & Molecular Biology
• Molecular Sciences
• Biomedical Engineering
• Neurosciences
• Nutrigenomics & Nutrigenetics
Keynote Speakers:
Prof. Renu Wadhwa, Ph.D
School of Integrative and Global Majors (SIGMA), University of Tsukuba; AIST-INDIA Diverse Assets & Applications International Laboratory, National Institute of Advanced Industrial Science &Technology (AIST), Japan
Dr. Hendra Gunosewoyo
School of Pharmacy and Biomedical Sciences, Curtin University, Australia
Assoc. Prof. Mariena Ketudat-Cairns, Ph.D.
School of Biotechnology, Institute of Agricultural Technology, Suranaree University of Technology, Thailand
Prof. Fatchiyah, M.Kes., PhD
Department of Biology, Faculty of Mathematic and Natural Sciences, Brawijaya University, Research Center of Smart Molecules of Natural Genetic Resources, Brawijaya University
Dr. Priatna Sasmita
Balai Besar Penelitian Tanaman Padi (BBpadi), Balitbangtan Ministry of Agriculture Republic Indonesia
Prof Chi-Tai Yeh, PhD
Taipei Medical University, Shuang Ho Hospital, Taiwan
Important Dates :
Abstract submission deadline : 25 July 2021
Abstract acceptance : 30 July 2021
Full paper submission : 1-30 August 2021
Payment (early bird) : 1-31 July 2021
Payment (regular) : 1-15 August 2021
Registration:
https://forms.gle/miLeE6HxD73cxJ1t6
Awards:
Best oral presentation
Best poster presentation
Publication :
Selected full paper will be published in Scopus-indexed proceeding. Other full papers will be published in JSMARTech journal (http://jsmartech.ub.ac.id).
All submitted papers will be peer-reviewed by experts and the final decision of the selected papers will be made by the editorial team.
Further information :
https://issmart.ub.ac.id
Email: issmart@ub.ac.id
Contact person:
Dewi +62 859-3222-8406
Fara +62 812-3090-5299