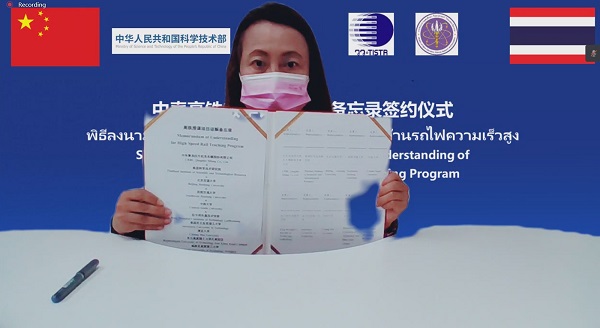 SUT signs Memorandum of Understanding of China-Thailand High Speed Railway Teaching Program
Today (March 15, 2022) at 09.00h Associate Professor Dr. Pornsiri Jongkol, Dean of Institute of Engineering, SUranaree University of Technology, represented the Rector of SUT in the Signing Ceremony for Memorandum of Understanding of China-Thailand High Speed Railway Teaching Program between leading high speed railway institutions in Peoples Republic of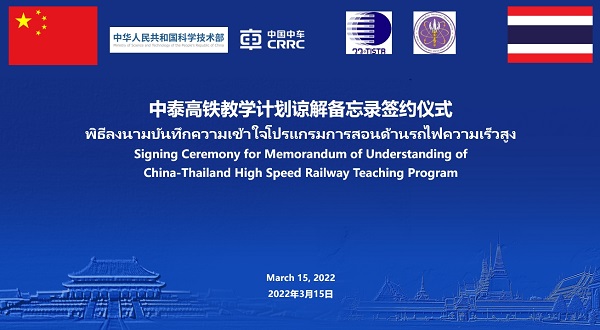 China including :
CRRC Qingdao Sifang Co., Ltd.
Beijing Jiaotong University
Southwest Jiaotong University
Central South University

Thai institutions including :
Thailand Institute of Scientific and Technological Research
King Mongkut's Institute of Technology Ladkrabang
Suranaree University of Technology
Chiang Mai University
Rajamangala University of Technology Isan Khon Kaen Campus
Rajamangala University of Technology Srivijaya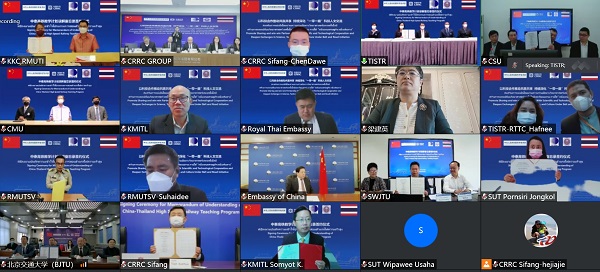 Also presided in the ceremony were
Prof. Dr. Sirirurg Songsivilai,
Permanent Secretary, Ministry of Higher Education, Science, Research and Innovation, Thailand
Mr. Zhang Guangjun, Vice Minister, Ministry of Science and Technology (MOST), China
H.E. Mr. Han Zhiqiang, Ambassador
Extraordinary and Plenipotentiary, Embassy of the People's Republic of China in the Kingdom of Thailand
H.E. Mr. Arthayudh Srisamoot, Ambassador of the Kingdom of Thailand to the People's Republic of China
Mr. Wang Jun, Vice President of CRRC
Dr. Chutima Eamchotchawalit, Governor of Thailand Institute of Scientific and Technological Research (TISTR)
Mr.Ruan Xianping, Senior Council Department of International Cooperation And the representatives from the signatory universities.
The scope of the MoU covers
Establishing the high speed train training curriculum for professional level and educational level for technical and engineering international talent in high speed railway.
Organizing professional training courses for Thai universities lecturers and engineers in Thailand and China.
Organizing educational training courses for undergraduate and high vocational students in Thailand.
Co-organizing seminar/workshop on promoting the achievements of the Teaching Program.
The MoU enables collaboration on rail transport equipment and technology, high speed rail systems and elevate competitiveness with integration of the public, industrial, education sectors and research institutes to further strengthen the Sino-Thai high speed rail cooperation.
มทส เข้าร่วมในพิธีลงนามในบันทึกความเข้าใจ โปรแกรมการสอนด้านรถไฟความเร็วสูง
เมื่อวันที่ 15 มีนาคม เวลา 09.00น รองศาสตราจารย์ ดร.พรศิริ จงกล คณบดี สำนักวิชาวิศวกรรมศาสตร์ มหาวิทยาลัยเทคโนโลยีสุรนารี ได้เป็นผู้แทน มทส เข้าร่วมในพิธีลงนามในบันทึกความเข้าใจ โปรแกรมการสอนด้านรถไฟความเร็วสูง (Signing Ceremony for Memorandum of Understanding of China-Thailand High Speed Railway Teaching Program) ซึ่งเป็นบันทึกความเข้าใจด้านการจัดโปรแกรมการสอน เพื่อส่งเสริมและยกระดับทักษะวิชาชีพด้านระบบรางรถไฟความเร็วสูง ระหว่างสถาบันชั้นนำด้านระบบรางความเร็วสูงในสาธารณรัฐประชาชนจีน ได้แก่
CRRC Qingdao Sifang Co., Ltd.
Beijing Jiaotong University
Southwest Jiaotong University
Central South University
และสถาบันในประเทศไทย ได้แก่

สถาบันวิจัยวิทยาศาสตร์และเทคโนโลยีแห่งประเทศไทย
สถาบันเทคโนโลยีพระจอมเกล้าเจ้าคุณทหารลาดกระบัง
มหาวิทยาลัยเทคโนโลยีสุรนารี
มหาวิทยาลัยเชียงใหม่ มหาวิทยาลัยเทคโนโลยีราชมงคลอีสานวิทยาเขตขอนแก่น และ
มหาวิทยาลัยเทคโนโลยีราชมงคลศรีวิชัย
โดยมี ผู้ให้เกียรติเข้าร่วมงานเข้าร่วมพิธีลงนามทางออนไล์น ได้แก่
Prof. Dr. Sirirurg,
Songsivilai, Permanent Secretary, Ministry of Higher Education, Science, Research and Innovation, Thailand
Mr. Zhang Guangjun,
Vice Minister, Ministry of Science and Technology (MOST), China
H.E. Mr. Han Zhiqiang,
Ambassador Extraordinary and Plenipotentiary, Embassy of the People's Republic of China in the Kingdom of Thailand
H.E. Mr. Arthayudh Srisamoot,
Ambassador of the Kingdom of Thailand to the People's Republic of China
Mr. Wang Jun, Vice President of CRRC

Dr. Chutima Eamchotchawalit,
Governor of Thailand Institute of Scientific and Technological Research (TISTR)
Mr.Ruan Xianping, Senior Council Department of International Cooperation
รวมทั้งผู้แทนจากมหาวิทยาลัยไทยและจีนที่ร่วมการลงนาม
โดยมีขอบเขตความร่วมมือ ภายใต้บันทึกความเข้าใจ ดังนี้
สร้างหลักสูตรระบบรถไฟความเร็วสูง สำหรับระดับวิชาชีพ และระดับเพื่อการศึกษาซึ่งมุ่งเน้นการเสริมสร้างผู้เชี่ยวชาญนานาชาติเชิงวิศวกรรมและเชิงเทคนิคด้านระบบรางความเร็วสูง
จัดคอร์สฝึกอบรมเชิงวิชาชีพสำหรับคณาจารย์มหาวิทยาลัยไทยและวิศวกรในประเทศไทยและจีน
จัดคอร์สฝึกอบรม สำหรับนักศึกษาปริญญาตรี และนักศึกษาอาชีวศึกษาในประเทศไทย
จัดสัมมนาและการอบรมเชิงปฏิบัติการร่วมกัน เพื่อเผยแพร่ผลสัมฤทธิ์ของหลักสูตรการสอน
การลงนามในบันทึกความเข้าใจนี้ เป็นการส่งเสริมให้เกิดความร่วมมือกันด้านเทคโนโลยีอุปกรณ์ระบบรางขนส่ง ระบบรางความเร็วสูง ยกระดับด้านการแข่งขันด้วยความร่วมมือจากภาครัฐ ภาคอุตสาหกรรม ภาคการศึกษาและสถาบันวิจัย เพื่อสร้างฐานความร่วมมือด้านระบบรางระหว่างประเทศทั้งสองให้เข้มแข็งต่อไป
Source: Center for International Affairs, SUT